Don't be caught out by sudden surges in disparities. At our Customer Advisory Board, in Quarterly Business Reviews with clients and at the Direct Booking Summit, we've heard the same question from many clients: "can you notify me every time there is a disparity?"
Until now, our answer has been simple: you probably don't want to hear from us quite that often! Nonetheless this got us scratching our heads about what would be useful to know immediately, alongside our current daily or weekly overview reports.
SPOTTING A SURGE
An unusually high disparity rate can be an expensive issue. In many cases it's a simple mistake that can be easily fixed. That's why we created Surge Alerts. These notify you when disparity levels have increased substantially so you can get the issue fixed as soon as possible, minimise the impact and never miss a direct booking.
Here's how we spot a surge:
We look at the disparity rate over past 6 hours
We then compare it with the disparity rate over past 7 days
If the disparity rate of the past 6 hours is far higher than what we would expect based on the last week's average, you'll receive a Surge Alert
Note: It is independent of traffic and search volume.
(Ok, we admit it: we took a little inspiration from Uber surge pricing!)
KEEPING YOU IN-THE-KNOW
Notification on your Data Platform
A notification is triggered as soon as a disparity surge starts. The multiplier is refreshed every hour if the surge continues.
Look out for this at the top of your Disparity Dungeon:

When a surge starts, you'll receive an email letting you know. This will only happen once per surge, so you'll need to check out your Disparity Dungeon for the latest rate of disparities.
What qualifies as a surge? You decide.
As a default, we'll let you know when disparity is at 3 times the normal rate, but if you'd like to adjust this threshold, just head to your Account Settings page.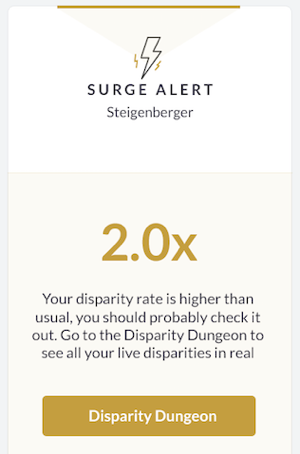 A new addition to your daily/weekly parity update
Receiving a daily or weekly parity report? We know sometimes when you're busy, it's tricky to get to your email. That's why we're adding in a section to recap any surges in the past day or week.



Want to know more about your Parity emails? Check out our guide…