We're excited to unveil a new Price Check feature: supporting Closed User Group Pricing.
It's no lie that hotel groups everywhere are upping their loyalty game with exclusive member offers and rates. You only have to flick through our blog to see the big names hopping on this trend as a great opportunity to drive direct bookings. As always, we've been listening and have made some updates to our Price Comparison Widget to support these great incentives.
Should your hotel offer Closed User Group Pricing like this, or is eager to introduce it, this feature will most definitely appeal to you, so here's the low down:
Previously Price Check showed users a list of rates from across the web.
Now with a small update to your integration, Price Check will be able to solve 2 very important aspects:
1. It will be able to automatically identify whether or not the user is logged into your website as a member or not.
2. Once establishing this, our wise ol' widget will be able to display the discounted rate alongside the standard rate together with a tailored message to incentivise non-members to sign up, "Great! You are eligible for this exclusive [Hotel Honours] offer" or, alternatively, "Exclusive offer for [Hotel Honours] members".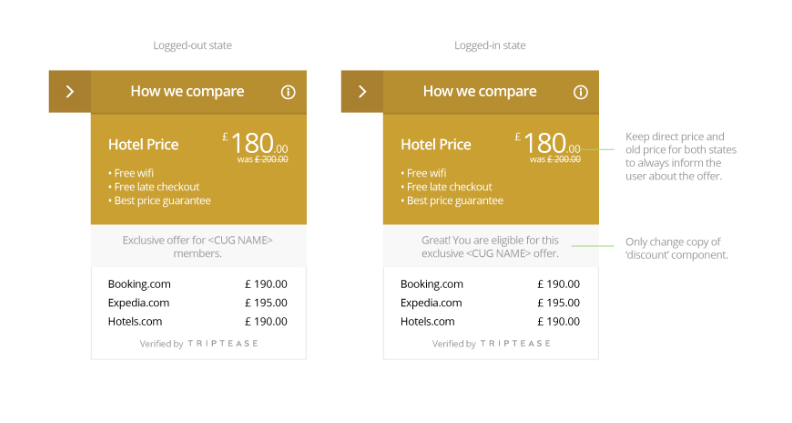 If the user is not logged in (i.e. presumed not yet a member), Price Check will be able to promote the member rate at your hotel (if available) pointing the user where to register and redeem the cheaper rate. Result – loyalty growth and a juicy direct booking boost.
If the user is logged in however, the widget will display both the discounted member rate and the standard non-member rate, thus demonstrating the dollar users save with the member rate. Et voila! – you bolster your guest loyalty.
In addition to disptglaying the discount rate, the widget will also be able to broadcast other benefits members receive including free wifi, mobile check-in, express check-out and much more.
Needless to say we're pretty pleased with this innovative tech extra and think it will make for a must-have add-on for hotels showcasing discounted member rates. Get integrating guys and may the results speak for themselves. We'd love to get this set up and see how Closed User Group pricing is helping your hotel in the direct booking battle.